Y'all, I have become a dull, dull person. Nothing interesting happens to me and I don't do anything interesting. It is amazing SH wants to come home to me after a week-long trip, but I have to say I am a darn good cook and that has a lot to do with it.
So. Here's what I've been up to.
1. Last night, we went to a play, Captain Neato-Man or something like that. It was performed by some theater company that is taking the play to a one-act play competition. After the show was over, they made us stay and give them feedback, which you know is usually one of my absolute favorite things in the world to do, but I didn't know there was going to be a pop quiz and all I could think of during the play while I was watching Captain Neato-Man in his tights was "What on earth does that guy have in his tights? Is that a zucchini? Is this like 'Spinal Tap' and is he going to set off the metal detector with the tinfoil he has wrapped around it?"
2. Before the show, SH and I went out to eat. We intended to go to the Kegel Inn (insert your own joke here) for their Friday fish fry, but even though we got there at 6:30, it was going to be a 45-minute wait. Honestly. You have to make a reservation? For a
fish fry?
So we went to Culver's instead and split a triple-bacon cheeseburger, bacon-cheese soup, and a cheese milkshake. Not really. It was a cheese malted milk. OK. A chocolate milkshake. But I had you for a second, didn't I? This is Wisconsin.
3. I have been thinking about writing a book. A memoir. But all the good stuff is things I cannot discuss here for reasons I cannot discuss here, but a lot of you know what I'm talking about and I wouldn't want to leave any of that out of the book, but what happens when I am on Oprah and Good Morning America promoting the book? There are certain people who could not know of this book's existence, so I'd have to use a pseudonym, which is fine because you still get the money but wouldn't half the fun of having a bestseller be that everyone you went to high school and college with would know about your bestseller, including Frog Girl (not because she looked like a frog but because she always wore frog designs on her preppy little turtlenecks), whose letters to your alumni magazine about how she is now a professor at Princeton and has written a book (an academic one, so not as hard as a novel) and has four kids, blah, blah, blah, make you kinda sick, so she could be envious? And how do you go anonymously on Oprah, anyhow?
4. I have been watching a lot of movies. That's what SH and I do in the evenings -- watch movies together in our freezing basement, which is why I am not watching as much What Not To Wear and Bridezilla as I used to when the TV was next to the kitchen -- but I usually don't watch movies alone. But I got the movie "Don't Mess with the Zohan" at the library and SH had no interest in seeing it, so I watched it yesterday afternoon instead of doing something productive with my life. Now there are two hours I'll never get back. I mean, the running gag with The Tribe hummus was funny, but did that make up for the rest? "He Got Game" was good, though. Denzel. Definitely on The List.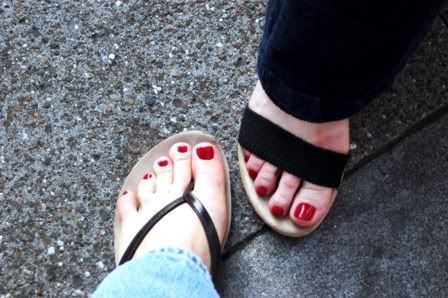 5. How could I forget??! SFGirl, she of the glamorous toes, told me that
Luke
, my friend from grad school, finally popped the question! Not to distract from the truly wonderful part, but she said he told her that
his sister's
and my incessant nagging is part of what prompted him. Glad to help. And I am thrilled for them both.
6. Not nearly as exciting as the wedding news, but both the headlights went out last night, which meant we had to drive home with the high beams. Thankfully, we are not in Texas. Here, people don't shoot you for something like that. They'll get drunk and run into your car because apparently, it is OK to drink and drive as much as you want -- the first offense is only a misdemeanor, but they won't shoot you. You can drink and drive, but you can't park overnight on the public street in front of your house and you can't put lawn waste in the trash.
The dual death had SH puzzled, but as he is far more math-literate than Homer Simpson, who asked, "What are the odds of getting sick on a Saturday? Like one in a thousand?", he knew that it was not probable but possible. Fortunately, it was just the bulbs and not a fuse. Still, it means he is out blowing the six inches of snow off the driveway so he can go out to get new bulbs, even though I assured him that while he is gone this week, I just won't drive after dark. He is also cutting it very close to get to the library to pick up the movie, but I guess he thinks I don't get enough adrenalin in my life. Still, he's the one who wants to see Kate Winslet. If he doesn't pick up "Engima" in time, we can watch "Mississippi Masala," which I already have and just happens to have Denzel in it.