Busy doing taxes and cleaning the basement today, so nothing dramatic except what is wrong with the IRS and TurboTax that I have to tell them if I got a tax rebate/stimulus check last year even if I am not going to be taxed on it and I can look it up online? If I'm not going to be taxed, why does the IRS care? And if they already know (hence the lookup function), then why do they need me to give them the answer?
So. It was a pretty, sunny day today and I took advantage of the light to take photos of our now almost-completely decorated/finished living room and dining room.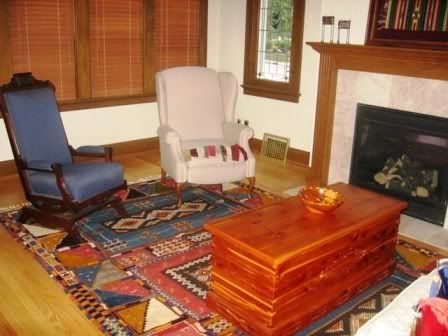 Living room before the chair was reupholstered and before I found and refinished the table.
Living room now with the chair looking fabulous. Lindley's plant that she sent to fill that back corner is in a warmer place for now.
Dining room before we finished unpacking.
Dining room after. The pictures we got in Spain are framed and on the wall. Our Morocco rug arrived, thanks to Megan's hard work.
More dining room. Notice yet another picture on the wall. Isn't the humidor in the front cool?
Pictures hung!
I got this little thingy that looks like a pie safe at Goodwill. It works as a nightstand, but I don't think that's what it is. Anyone have any ideas?