Marlin: Now let's watch Jim as he wrestles this seven-pound screeching cat to the ground. Why is she so loud? Why is she peeing everywhere but her litter box? Why the relentless pacing? He's looking in her eye. She had a little eye infection that seems to have gone away, but maybe it went into her brain and is causing her immense pain. No. Jim is using his remarkable vet powers and detects no signs of brain infection.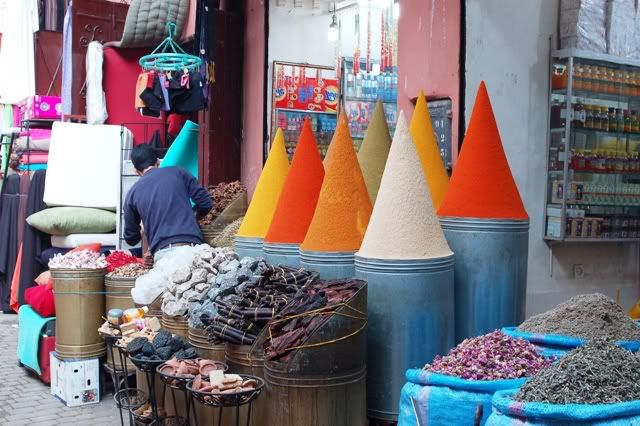 change channel
Sam: This dame sashayed into my office and the click of her heels on the wood floor said she meant business. Her eyes were as blue as a Saturday-night special. She was wearing a fur coat, cream with chocolate-brown stripes, so tight I could read the day of the week on her underwear. Her musky perfume almost knocked me out and invited me to do things my mother told me I wasn't supposed to do with nice girls but she wasn't a nice girl. "Hello, sailor," she purred.
change channel
But sir, the vet records show that the surgery was done!
Yes, but there's no scar. No scar!
change channel
Marlin: We are wondering if perhaps this beast is starving to death and if that might explain her behavior. Jim has carefully backed away from her screeching, which is loud and high enough to pierce an eardrum, and is re-reading the instructions on the back of the iams package. "For an 8-lb cat, 1/2 - 2/3 cup per day," it says. This cat is 7.5 pounds. She has been getting 1/2 cup of food a day. Let's up her allotment a bit, shall we, and see if that changes her behavior?
change channel
Sam: Just as quickly as she had purred, the dame turned on me. She paced restlessly, almost running to the window and leaning her forehead against it, then asking me where the ladies' was. When she returned, I said, "Lady, I ain't got all day. What's on your mind?"
She said, "My husband had this surgery. I have a friend. And now I'm in trouble."
"I don't get involved in that sort of trouble," I told her. "I got enough of my own."
change channel
Laverne: Shirl, wouldya just eat some chocolate already? You know how you get this time of the month.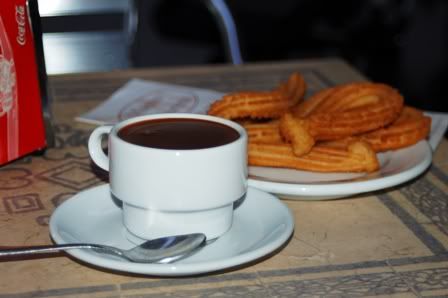 The ever-popular churros y chocolate in Madrid in November.