How much of a snob (we already know I am one, now we are establishing degree) does it make me that I was ticked off to see this stuff at TJMaxx today?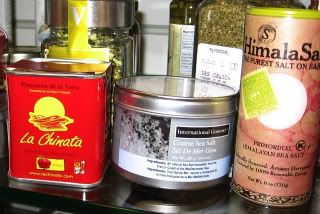 Yes, that is the Spanish smoked paprika, which you are supposed to be able to get
only in Spain
, the stuff we loaded up on at El Corte Ingles, or, if you get it in the US, you are supposed to have to pay a lot of money for it. You are not supposed to be able to find it at TJMaxx for $3.49. That is NOT AUTHENTIC! That is
cheating
.
And next to it? The Himalayan sea salt?
Hello? Does it count if you didn't get it in the Himalayas? I got my Hawaiian sea salt
in Hawaii!
That's what makes it brag worthy. What is the point of hauling salt, something I can buy for 38 cents at the Pick and Save, across the darn ocean if there is no snob appeal in it? If all I have to do to get Primordial Himalayan Sea Salt (news flash -- there is no sea in the Himalayas) is drive down 76th street, then why would I go halfway around the world? I am ticked, ticked, ticked off about this.