Don't you wish you were eating Chez Factotum this week?
This is the pork supper I made. I didn't even overcook the meat. A meat thermometer is a cook's best friend. After her silicon(e?) tongs, of course.
Tonight we had roast pork with tarragon brandy sauce, roast potatoes and carrots and green beans. I also threw in the vegetables used to make the sauce. We are of the Tribe That Does Not Waste. I have to admit it wasn't as good as all the work that went into it (check out the
recipe
to see what I mean) but it still wasn't bad. I won't be making it again, though. Too
French
.
On Sunday, we had seared tuna, rice, and baby bok choy with sesame oil, garlic and ginger. We liked it so much (and the tuna was on sale, just as the pork was) we're going to have it again on Friday when Pastor Gail comes over for supper. We are also going to have mussels with white wine and cream sauce because tuna just isn't enough. And yes I know that not having meat on Fridays during Lent is not an excuse to have fancy seafood, but we are having company and she's a Lutheran and so she's not in this whole meatless thing, although the Lutherans are coming around. They even did ashes this year. We were going to have her on Sunday and be a little less extravagant on Friday, giving the Orthodox church fish fry takeout down the street a try, but she already had other plans.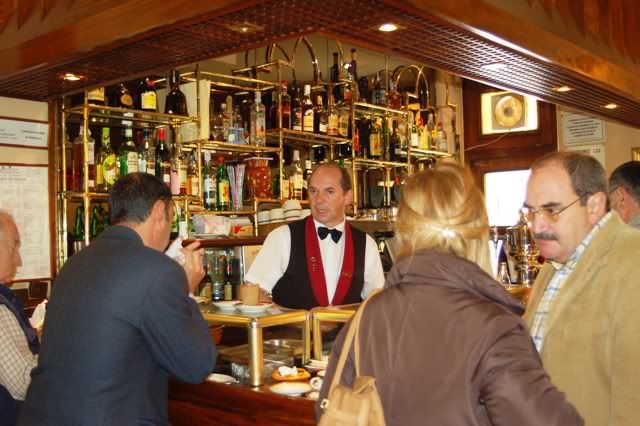 I could have sworn I had some good food pictures from Spain, but I can't find them just now. They'll turn up. In the meantime, just imagine the tapas at the bartender's fingertips. Ummmm. Tortilla. Patatas bravas. Pickled sardines. Cafe con leche.
Beans in Morocco.
Fish in Morocco.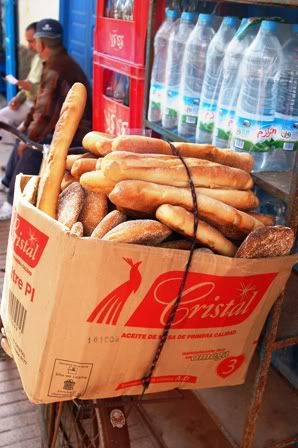 Bread. In Morocco. But really, isn't bread a universal experience?