I waved the white flag and joined facebook. I didn't want to for the same reason I don't ever want to eat that first bite of ice cream -- I have no sense of moderation and pretty soon, those jeans are too tight and I am naked, face down sobbing on the bed with nothing, nothing to wear.
Fin
, please don't turn away in disgust. I put in my name, school, and a decent photo because I couldn't stomach putting in an ugly photo. Then I asked to be friends with people who are already my friends.
Here is what I have learned:
1. People have friends.
2. Their friends have friends.
3. My sister has 229 friends.
4. People have photos on the walls, some interesting, some not.
5. Facebook tracks your activities on the Wall and it's very, very dull: "CF has updated her school!" Who cares?
6. People note what they are doing at the moment, which, really, is not that exciting: sitting at the computer reading what other people are doing, which is sitting at the computer
I already have 21 friends, including SH's stepdaughter, my step-step-daughter. She is not SH's friend, ha ha ha. She is also friends with my brother and sister, which explains why my sister asked me the other day if I had sent M a birthday card last week. How did Jenny know it was M's birthday?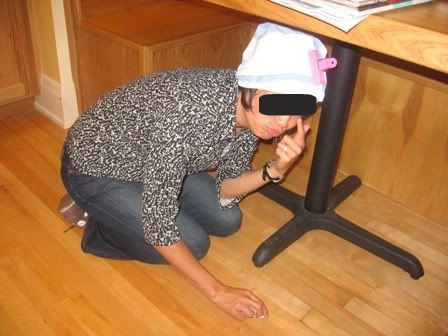 SH's step-daughter washing the kitchen floor after our wedding.
SH has only three friends. I have 21. Did I mention that? Not that I am competitive. I have more than SH. Not that this is a contest or anything.
Oh. What is the protocol for letting someone be your friend? I am getting friends requests from people I DO NOT KNOW but who are friends with my brother and sister. Sure, I am flattered. In a way. I am guessing there is a certain status in numbers here, but honestly? If I would not exchange emails or a phone call with you, why would I be your friend?