Hello my chickadees. SH and I are back (well, I'm back, SH is still in Minneapolis working) from our fun weekend with the
Bodacious Red-headed Pediatrician
and the
Cheeseguy
at the Casa de Queso. Patrick, Ilene and I started the weekend off with a challenging day of movie watching and eating at Patrick's brother and sister in law's place. SH was scheduled to arrive Sunday.
The three of us skipped Slumdog Millionaire, P&I because they had seen it, me because I had read the book and I have almost never seen a movie that measures up to the book. Then we watched Slapshot. I'll watch pretty much anything with Paul "Nobody can eat 50 eggs" Newman in it. He is even hotter than Denzel Washington. Well. He was hotter. Now he's dead and I imagine a little ripe.

The cheese shelf at Casa de Queso.
I recused myself from Milk because SH wants to see it. SH is all about the Serious Drama. I have to watch two Serious Dramas to get one Silly Comedy. It works like this:
Me: How about Harold and Kumar Go to White Castle?
SH: That sounds really dumb. I don't want to watch that.
Me: Superbad?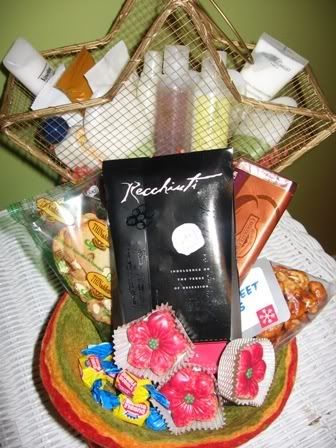 The little welcome basket in the guest room at P&I's house. Note the bubble gum just for me. Don't you love it when your friends
know
you? Those are homemade curried cashews in the back there. A basket of lovely toiletries behind that. Then, of course, there was the cheese shelf in the fridge. At the movie party, there was pulled pork, chili, beef stew, Patrick's mac and cheese, 7-layer dip, chips, other dips, brownies, Marcy's fabulous scones, ummm -- other good stuff I can't remember. Bugles. Ilene and I had to go to the grocery store in the middle of one movie to get more Bugles. Which they started making in 1964. Did you know that?
SH: That sounds stupid! I want a Meaty Drama! I am a Serious Intellectual! I can't be seen watching Silly Stuff! All my Intellectual Friends will laugh at me! They'll kick me out of Phi Beta Kappa! My parents will disown me! I'll lose my Liberal card! I won't be able to listen to NPR anymore! [Not a serious loss if you ask me]
Me: Oh good grief. I will watch W and Body of Lies with you if you will just watch Harold and Kumar, OK?
SH: Fine.
[later, after Harold and Kumar]
SH: That was really, really funny!*
Me: I told you so.
Then we watched Pineapple Express, which I know SH would like if I could just get him to watch it.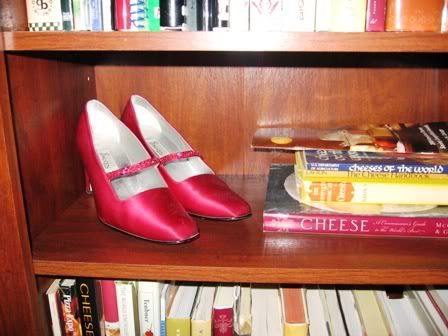 Ilene's famous red wedding shoes, now on display in a place of honor next to the cookbooks at the Casa de Queso.
Sunday morning, Ilene and I went to Rachel Who Works in a Prison's house to look at the shoes she is getting rid of and I found a pair of gorgeous black velvet evening shoes with diamond (not real diamond but you know what I mean) accents and Ilene got some shoes too and I am ashamed to say I didn't really pay attention to Ilene's shoes because I was too busy kibbutzing with Rachel on what she needed to do to get her house ready to sell.
When SH arrived, we embarked on an ambitious day of sitting around eating leftovers.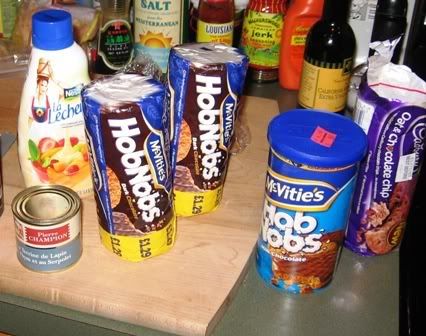 SH brought Hobnobs, which he had found on sale at World Market in Milwaukee on Saturday. Coincidentally, P&I had brought Hobnobs for us back from their honeymoon in England last fall, which you could read about except of course journalspace robbed us of our blogs. Not that we're bitter or anything. Did I mention journalspace crashed? And that I lost FOUR YEARS OF BLOGGING? And P&I lost the blog of their honeymoon? And that they didn't refund us our subscription fee? P&I also brought us some canned rabbit from France (they call it "lapin") in honor of the rabbits that ate part of my garden last summer.
On the way to the restaurant, we saw this lovely logo. Discuss.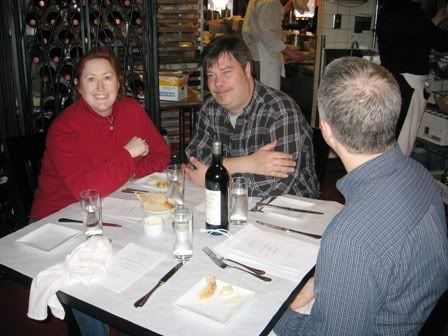 We didn't make reservations at the restaurant because hey it's Sunday night during a recession so how crowded can it be? Crowded is how crowded. But P&I eat here all the time, so they let us sit in the kitchen, which was totally cool. We got to watch everything. They didn't charge us a corkage fee because P&I are Special. There was an old man wearing a purple satin tunic with white rickrack edging playing saxophone and clarinet right behind us. He told us it keeps his lungs and brain in shape. Total sweetheart.
* He also liked The 40-Year Old Virgin, Superbad, Knocked Up, Lonesome Dove (not a comedy, but a "dumb western" that we ended up spending two straight days watching), Shaun of the Dead, Hot Fuzz, Run Fatboy Run, A Fish Called Wanda, Billy Elliot, Dear Frankie, Young @ Heart (all three "too sentimental") and others I would list except the library website kicked me out and I'm too lazy to log back in.