But I'm still claiming him. This kid is my first cousin once removed (I think that's the right way to say it), the son of my dad's cousin Paul. I've never met him, which is easy when your dad's mom had five siblings (I think) and his dad was one of 12. Heck, I can't even keep up with my own first cousins, of which I have 28 or so. Zac is my dad's dad's sister's grandson.
This is cool. I just know my dad, an Air Force vet, my Grandma Sylvia and my Papa Al (my dad's parents and Zac's great aunt and uncle) and my Aunt Madge (Zac's grandmother and my dad's aunt) are up in heaven drinking a beer and toasting Zac.
Staff Sgt. Zachary Rhyner of the 21st Special Tactics Squadron from Pope Air Force Base, N.C., received the medal for uncommon valor during Operation Enduring Freedom before a crowd of hundreds dotted with combat controllers' red berets.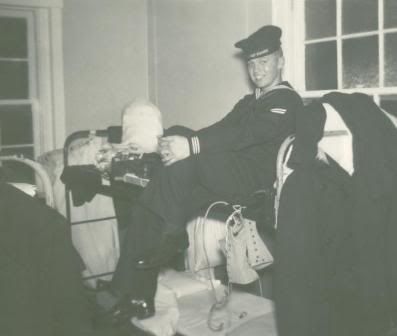 My dad leaving for Coast Guard boot camp when he was probably about the age that Zac is now. (My dad enlisted in the Coast Guard after high school, then went to college on the GI Bill, then joined the Air Force.)


The decoration is second only to the Medal of Honor, and is awarded by the president....

"Your actions are now and forever woven into the rich fabric of service, integrity and excellence that has connected generations of America's Airmen since the very inception of airpower," Secretary Donley said to Sergeant Rhyner.

"Rarely do we present an Airman with the Air Force Cross, let alone a Purple Heart, and with good reason. The Air Force Cross is reserved for those who demonstrate unparalleled valor in the face of insurmountable odds."

Secretary Donley added that among the millions who have served, only 192 Air Force Crosses have been awarded.

Air Force Chief of Staff Gen. Norton Schwartz also presented Sergeant Rhyner with the Purple Heart. General Schwartz said special forces Soldiers lived to tell the story of the Shok Valley battle thanks to the courage, tenacity, teamwork, as well as the invaluable and selfless efforts of Sergeant Rhyner.

Despite injuries he sustained as the result of persistent insurgent fire, Sergeant Rhyner coordinated more than 50 aerial attacks to continuously repel the enemy during the beleaguering battle that occurred during his first deployment. According to the decoration citation, Sergeant Rhyner "provided suppressive fire with his M-4 rifle against enemy fire while fellow teammates were extracted from the line of fire."
Read the whole story
here
. Then watch to see Zac on Glenn Beck sometime soon, maybe this weekend.