SH and I are going to Minneapolis next weekend to visit
Ilene
and
Patrick
(neither of whom blog enough so go to their sites and nag them in the comments). SH is actually going for work and I am tagging along thanks to a very low fare, but we are quite happy to have an excuse to visit our friends and get out of this crummy Wisconsin weather.
Rachel Who Works in a Prison's shoes.
In what is surely a sign from God, I saw a note on Facebook (this will be how it redeems itself to me, perhaps) from Rachel Who Works in a Prison, who is one of my 42 friends. I have 42 friends, SH has 11. Not that this is a competition or anything. But I am winning. He says he is not racing.
Rachel: Can't believe [I] just met with a realtor. Anyone want to buy everything I own?

Andrea: can I have the shoes?

Class Factotum: Oh yes on the shoes! What size do you wear?
Rachel Who Works in a Prison dancing with her dad at Patrick and Ilene's wedding.


Rachel: I'm keeping most of my current, but I have a fabulous assortment of 8.5's from before I had a kid. They are all up for grabs.

Class Factotum: I wear 8.5. And I just happen to be going to Mpls next weekend.

Coincidence?

I think not.

Rachel: I would LOVE to get rid of all the 8.5's!! Yay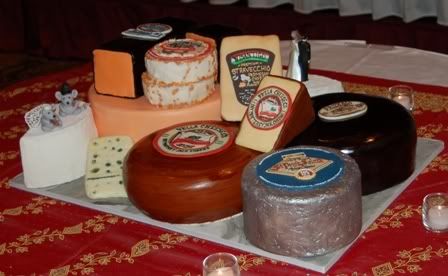 The cake at Cheeseguy and the Bodacious Red-headed Pedatrician's wedding. Yes, that is really a cake made to look like a cheeseboard. The pastry chef was a genius.