On my way home from Chicago where my friend Lenore and I had a pleasant afternoon, with lunch at Cosi, then a walk down to the lake where we watched shirtless men throw sticks for enormous dogs who ran into the water into what looked like piles of dirty sand but were really piles of dirty snow, I stopped for as close to Cincinnati chili as I think I'm going to find in Milwaukee. I don't know why I wanted it. I just did. They'd been debating this over at Ann Althouse's
website
and someone had commented on the Milwaukee place. Anyhow, I went. This conversation ensued between me and the otherwise very cordial 20something clerk as I asked for chili takeout:
Me: Oh, I don't need utensils.
Macchu Pichu. Or however you spell it.
Clerk: It's OK. I already put them in.
Me: You can take them out. [Otherwise, I am just going to throw them away, which is wasteful for the environment that I am sure you care about very much and for your employer, who probably runs on those very profitable margins that restaurants and other businesses that deal in perishables often do.]
Clerk: That's OK.
Clerk: That comes to $6.61.
Me: Here's 20. [I don't really say the "Here's 20" part. I just hand him a 20. I am advancing the plot here without a visual.]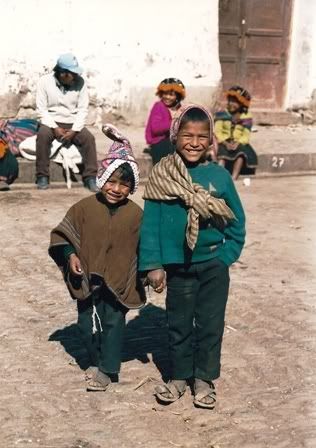 Boys in Peru.
Clerk: Your change is 13.39.
Me: Here's a penny. [He hadn't counted out the change yet.]
Clerk: That's OK. I already rung it up.
Me: Yeah, but you can do the math in your head. If I give you the penny, then you give me forty cents.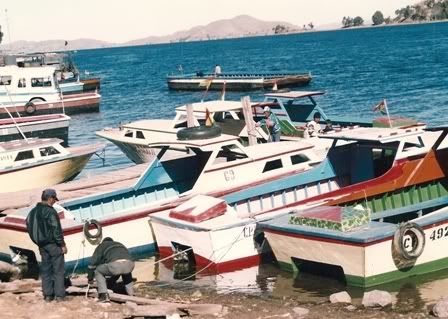 The Bolivian navy on Lake Titicaca. No joke.
Clerk: [as if he is doing me a favor to give me a quarter, a dime and four pennies instead of a quarter, a dime and a nickel.] No, it's OK.
Me: [Are you completely unwilling to listen to a word your customers say? And this chili better be darn good for that price.]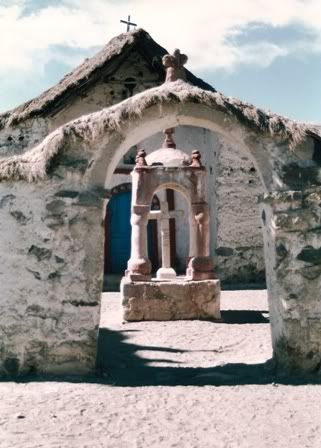 Northern Chile.