Hello my chickadees. I just returned from a whirlwind trip to northern Wisconsin to see my grandmother. She is 96 years old and doesn't exactly recognize me. She confuses me with one of my cousins who is 25 years old, so I don't get insulted.
The other good thing about her having some memory issues is that she doesn't (I don't think) really know how long I have been visiting. Five minutes? Seems like an hour. I saw her three separate instances in the 20 hours I was there. She might remember that as ten visits of an hour each.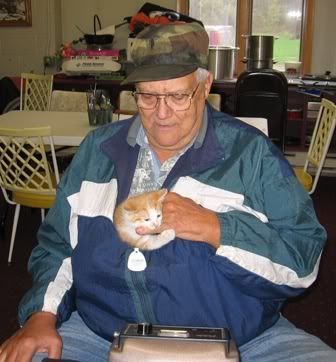 My uncle Larry with his kitten.
The big challenge of going to Medford is that there are so many people I want to see and not enough time to do it. My mom and dad are both from that area and many of my aunts, uncles (my dad has two brothers, my mom has six siblings) and cousins still live there. I went to church with my grandmother and my Aunt Rita (mom's sister) and saw my Uncle Denny (dad's brother) and Aunt Agnes sitting on the other side of the church. So of course I had to say hi to them and they asked me back to their house for a drink and we caught up and Denny told us how when he was a kid my other grandmother (the one whose life was tragically cut short by smoking* at 98) was a good cook but got stuck in her rut -- cooking was not her favorite thing. Friday night was potato pancakes -- grated, not mashed potatoes. (Does anyone think making fried mashed potatoes counts as potato pancakes? I didn't think so but you never know.) They had them with canned peaches or applesauce on top, which of course I knew because that's how my dad made them. Saturday was beans and baloney. When Agnes commented on the sparseness of the meal, Denny pointed out that this was the Depression and they, unlike Agnes' family, were not on a farm and had to get their food, gas and clothes with ration coupons. After Denny and I argued about some issues in Milwaukee and their relation to race, we agreed that the &*%$ bloodsucking governor of Wisconsin needs to be voted out of office** and they invited me back for breakfast this morning.
Then I went to see my grandmother again at the nursing home and we had the same conversation we had had in church, i.e., did I drive up here and where did I drive from and when was I returning to Colorado Springs? No, that last question was not completely out of left field. My mother lives in Colorado Springs, so in addition to being mistaken for a cousin 20 years my junior, I am also mistaken for my mother. Apparently, I have quite a range.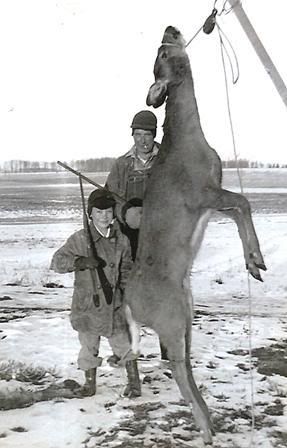 My mom's dad and one her brothers. And a deer. Yes! My grandfather is smoking! And they have guns! Oh no! (When did Wisconsin start voting Democrat?)
Then to Rita and Uncle Larry's place for a really good supper. There is a reason people are not skinny in Wisconsin and it's not just the cold weather. It's because people here -- at least, my people -- can cook. My aunt made spaghetti carbonara with some of Larry's bacon (he is a butcher and hunters bring their deer from as far away as Washington state for him to process and turn into sausage and venison bacon), dinner rolls (not the store bought kind) salad and chocolate-pecan bars, of which she sent a bag home*** for SH with strict orders that I was not to eat all of them myself on my drive back.
Then my best cousin Angie, who is nine days older than I am and has always been my best cousin friend of my 24 cousins, came over and we talked about how Granma might come across as this totally docile, sweet, little old lady but don't even bother to try to make her do something she doesn't want to do. Rita took Granma to get new shoes and my grandmother was convinced the shoes were supposed to cost $39 and not $89 because that's what she had paid the last time she had bought these shoes. Rita said not to worry, she would buy the shoes for Granma but Granma was having none of that nonsense of one of her children paying for her shoes. Didn't she raise her children to be independent? Isn't she an independent lady herself who does not expect her children to take care of her? That's not her children's job. Children do not take care of the parents as far as my grandmother is concerned and that's that.
And shoes do not cost $39.
My aunt got tired of arguing with my grandmother and said OK, you're right. They're $39. Pay the guy. Then my aunt whispered to the clerk that she would make up the difference later. He took the money, gave a receipt with the balance due to my aunt, they left, and Rita went back a few days later to pay up.
I also saw Dr J, my mom's friend, and had some of his birthday cake. Rita made a fabulous breakfast this morning -- homemade blueberry muffins, eggs, venison bacon, hash browns. Angie and I went to see my grandmother again. Then I went to Denny and Aggie's for breakfast there of bacon, sausage, fruit and waffles.
I don't know why I'm not hungry.
* When I am old, say 80 or so, I fully intend to start smoking and to drink heavily. I will also eat whatever I want. I will have ice cream for breakfast and I don't care if I gain weight. I read something today: as they age, women either get fat or mean. I'd rather be fat than mean.
** "I'd vote for Putin if he were running against Doyle." my uncle said.
*** Rita and Agnes both also sent muffins with me. It's 250 miles from Medford to Milwaukee. I might get hungry on the way.