Me: The postage is $1.34, so I'll just put on four stamps.
SH: I have some smaller stamps upstairs.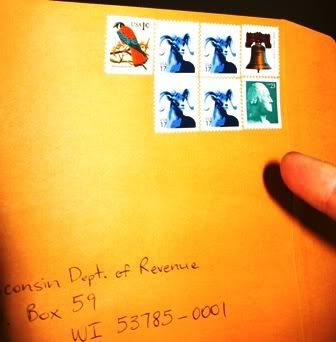 The Engineer gets it exactly right.
Me: Whatever.
SH: OK. Let me figure this out.
Me: Wouldn't it be easier just to use the four stamps?
SH: No! Don't rush me. I want the perfect solution.
Me: What stamps do you have?
SH: Well, I already put on a 42-cent stamp, so now I need to figure out the rest.
Me: Don't you have a presentation to give in an hour? And your flight is at 4? Is this really the best use of your time*?
SH: Yes.
* This is the man who stayed up until 6:30 a.m. on Monday working and then got four hours of sleep.