SH: I'm going to have to get some wheel locks to go on the new wheels*.
Me: What's a wheel lock?
SH: It makes it harder for someone to steal the wheels.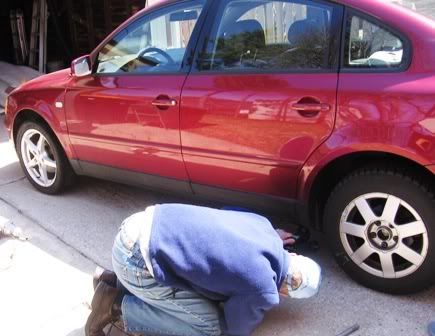 SH: Can't you see the difference between the two wheels? Me: Not really.
Me: Who would want to steal wheels?
SH: These are really nice wheels.
Me: Wouldn't it be easier have wheels nobody wants to steal?
SH: No! These are cool wheels!
* that he bought with the bonus he got even though his company has frozen salaries, slashed vacation, and canceled bonuses (which is way better than laying off people, so I am not complaining). The Engineer is a very good engineer. His boss knows it and found some extra money for him. Hence, new wheels, which, over time, will save money, because SH can change the snow tire wheels with the new ones himself (with the fancy tool he had to buy, of course -- some kind of hydraulic something) and we won't have to pay twice a year to have the snow tires mounted and removed. Or we could just move to Texas, where nobody even knows what snow tires are.