There is a part of me that is very proud that Laverne killed one of the nasty garden-eating rodents.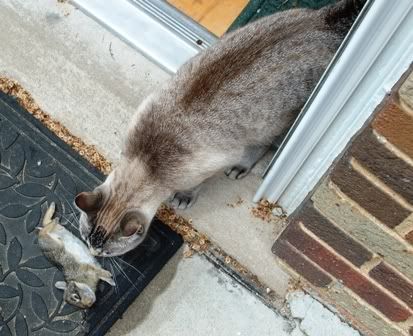 She must have scared it to death, because there is no blood and I couldn't see any puncture wounds. I wonder if she carried it like a kitten?
And then there is the part of me that thinks, "Holy smoke. I just had a conversation about this the other day with my neighbor, who was horrified at the idea of our cats killing rabbits and who told me that she and her son are really enjoying watching the little rabbit family that lives in the their back yard."
Which is where I am pretty sure this baby rabbit came from.
Which means I cannot let Laverne out without a leash for a few weeks because although I am impressed that she figured out a way to actually catch a rabbit -- go after the babies, as the adults are way too fast for her -- and although baby rabbits turn into dill-eating, procreating grown-up rabbits, I do not want to get into a war with my (very nice shovels our sidewalk when we're gone) neighbor about the diminishing baby rabbit population.