Laverne has finished her supper and is eying Shirley's meal. Shirley eats verrrrry slowly. It is painful to watch Shirley eat. Shirley is hungry a lot of the time, I think, but she hunts things like coffeecake and potatoes and bananas and lentils -- things cats really don't like to eat. Or maybe she would, but I have always intercepted the food before she could start. She tried to eat SH last night.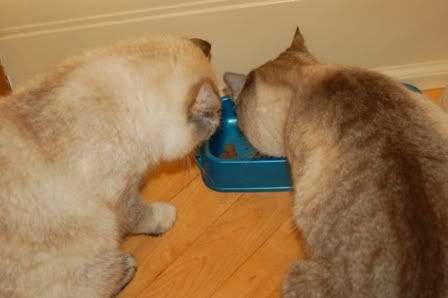 Laverne makes her move. Shirley is ticked, but does nothing. Can't we all just get along? If I weren't around, Shirley would starve.
I push Laverne away. She is not happy.