Here's my question: Do I try to go back to Goodwill on Monday, when everything in the store is 50% off the ticketed price, to get a price adjustment on the purse I bought there yesterday?
I found this white purse (left) yesterday. As I have been using my current purse (right) since Christmas of 2007, when my sister and SH bid against each other for it on eBay and SH ran my sister up $35 on the price, which ticked her off, and made SH mad that he didn't get to buy the purse for me, making him ask, "Why did you tell both of us you wanted this purse?" to which I replied that I had no idea either of them planned to spend that much money on me and I had been hoping to buy the purse myself but kept getting priced out. Wait. Did I not finish? OK. I've been using the purse on the right for a year and a half and I'm bored. The white purse would work for summer. Then it's back to the other one.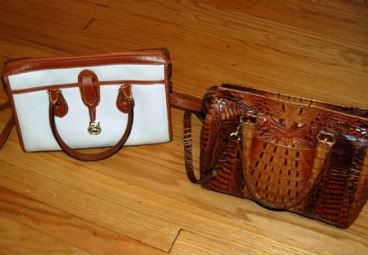 Anyhow. The white purse was $40, a little bit less after my Club Goodwill discount. As I was buying it, I noticed the signs proclaiming that Sundays and Mondays were 50% off days. Rats. Should I wait until Monday to come back and buy the purse? But what if somebody else buys it before then?
Maybe I can return with the purse on Monday and get a price adjustment. Does Goodwill do price adjustments? Is it just too tacky to ask for a price adjustment? The money does go to charity after all. But I could save $20, which is two hours of work for me after taxes. Grrr. Taxes. Like I'll ever get social security. And local taxes? Don't even get me started. We pay taxes but it's
illegal
to park overnight on the street in front of our house.
Does it give me a clue that I am mortified at the idea of calling the Goodwill store to ask if they do price adjustments?