You non-Catholic Christians may not be aware that at the Reformation, we got the real estate and you got the good music. You have not had to endure the tragedy, banality and kum-bay-yahness that is Marty Haugen. Two thousand years of beautiful hymns and we have to sing crap like -- well, I don't want to tell you if you don't know because there's no point in ruining your church life if you are used to beautiful songs like "A Mighty Fortress is Our God," "Amazing Grace" and "Crown Him With Many Crowns." Oh, I am getting depressed just thinking about all that glorious music that we never get to sing.
Anyhow.
This is what I saw in the hymnal* today in the "Songs by topic" index while I was reading it rather than sing the drivel that we were supposed to be singing: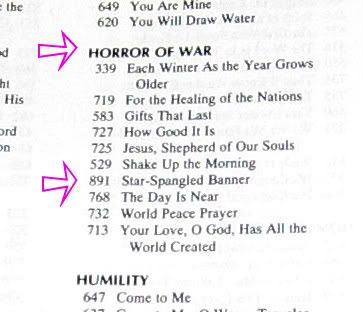 Yeah. I'm just a little offended that our national anthem is listed this way. Our country, the best hope that has ever existed for anyone in the world, and our national song is relegated to "horrors of war?"
I'm ticked. The military better not be spending money on this crap.
* The Gather hymnal that lists on its website
the ten reasons to buy it
, not one of which is, "The songs are beautiful." I am not making this up. The #1 reason they list for buying their book? The books "are printed on high grade, acid free, off-white paper which is proven to be easy on the eye." Yeah. That's why "The Kite Runner" and "Tuesdays With Morrie" were best sellers. Because they were on high-grade, acid-free, off-white paper. Not because they were page turners.