but y'all have to see the sweet things
Privilege
said about me.
AND she gave me a prize.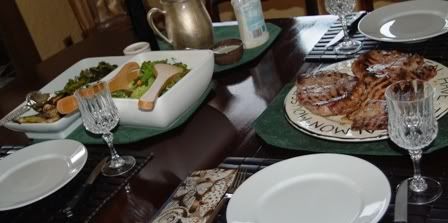 Also not to brag, but here's the little supper we threw together for my mom: grilled fennel, sauteed asparagus (in bacon grease, of course), a salad with store-bought lettuce and the spinach, lettuce and pea shoots I thinned from my garden, and fabulous SH steaks. Also, the
Good Salt
and the
Good Pepper
. My mom is worth it. Not just because she is my mom and is a fabulous mom (which is enough) but also because she spent a couple hours on Friday helping us get the water out of the carpet and spent a couple of hours today as my garden coach, helping me plant the irises she had brought with her from her garden in Colorado. And she pulled weeds. And trimmed the peonies and tulips. Without being asked.