On the way from church to the grocery store and then to the Greek Festival again. We ate there last night and it was so good we returned for lunch.
Don't ask me. Not my yard.
It is actually warm enough today to be outside.
See? Sidewalk dining in Wauwatosa. Sure, it's at the grocery store, but what's wrong with that? You can buy your brat or hot dog at the stand then sit to eat. Before you buy food, though, you make the circuit of samples: pretzel bread at the bakery, two kinds of dip by the deli counter, then pineapple, cantaloupe and honeydew melon in produce, where, sadly, the only items in the bargain bin were lettuce and eggplant. SH told me he doesn't really like baba ganoush, so there's no point in getting eggplant. No, I am not going to make eggplant parmigiana -- it is way too much trouble.
And then to the Greek fest, where if you no like meat, they make lamb. The chicken was so good (in the lamb and chicken dinner from last night) we bought a whole one to take home. We also tried four different kinds of pastry, all sold to me by yia yias who speak English as a second language. Who knew there was such a big Greek community in Wauwatosa? And yes, there was beer. And of course they have a fish fry every Friday. This is Wisconsin.
Seeing these Greek guys preparing lamb and chicken and saganaki reminded me of our trip to Morocco in October.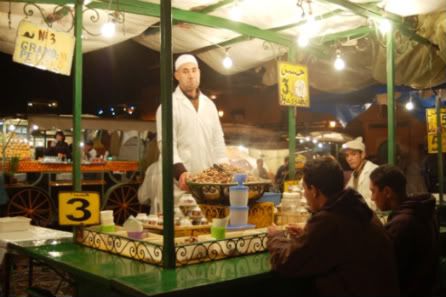 A food vendor in Marrakesh, the city to which we will never return* because some of the people in the square were so obnoxious. As in, when we politely declined to eat at one stall, the guy said, "F U" to me, only he said the whole thing. Right. Now I'm ready to spend money at your restaurant. Our soup guy, however, was perfectly nice and polite and his food was delicious. Steve and Megan told us to eat where the Moroccans were eating, not the tourists, and they were right.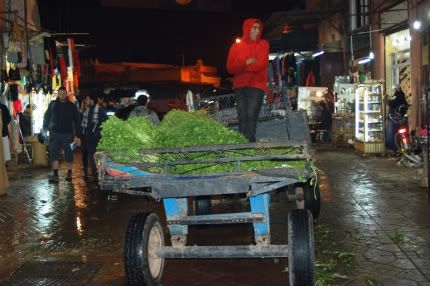 Selling cilantro. The meat guys use it to give a fresh aroma to their stands.
Bean seller. We got some and they were delicious. I love fava beans.
I can't find my sheepshead photo right now, but here's a guy in Madrid carving serrano ham.
Found them. Meat guys in Fez.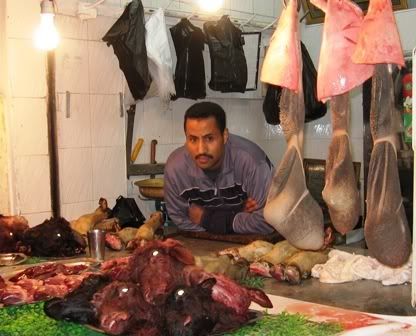 Another update:
LPC
asked about the clothes the men in Fez are wearing. Here are some more Morocco shots:
The medina in Essouira.
Woman in the narrow street.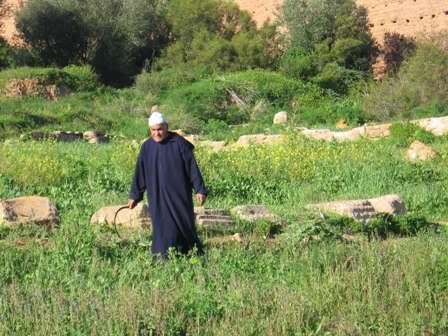 Old man at the Chella in Rabat.
Water seller in Fez.
Medina taxi in Fez.
* Please note that the rest of Morocco was fine. It's just Marrakesh. What a pit. Don't go there. Go to Fez and Essouiara and Volubulis but don't go to Marrakesh.