First canning class last night. We made strawberry-rhubarb jam and strawberry-raspberry-blueberry jam. The great news is that SH hates any food that ends in "erry" so I do not have to share any of my loot.
Smashing the strawberries. Rhubarb is to the right -- it looks like red coleslaw.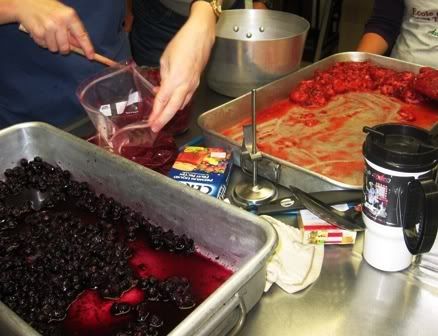 Measuring the raspberries for the three-berry jam.
Boiling the jam.
Putting it into the jars before processing.
Sampling the leftovers in the pot. This was my favorite part and I went back for eights (eighths?).
The finished product. There were 14 of us in the class and only 11 jars each of the jams, so I was getting very worried that I would not get my two jars. I did not know how to ask about it without looking like a pig, though, so I just spent the two hours being very anxious.* Fortunately, at the end of the class, the teacher told us she works with three of the students and she would just take them some jam later.
* A useful thing I learned in grad school: do everything you can to reduce uncertainty and anxiety when you are having a meeting (or in any process, like waiting for an elevator, which is why they tell you which floor the elevator is on), otherwise all people do is wonder when they are going to get a coffee break, what's for lunch, what time the meeting ends, will there be a test, etc.