Here's the question: If someone uses your house as a hotel, do they get the guest treatment?
I don't mind if someone uses our guest room as a place to sleep -- just as a base of operations. When I lived in Miami, I had several visitors like that. Friends of friends who wanted to see Miami and didn't want to pay for a hotel. I had extra housekeys and maps of the city. Handed out towels. Pointed them to the fridge. They played tourist and I went to work. Simple.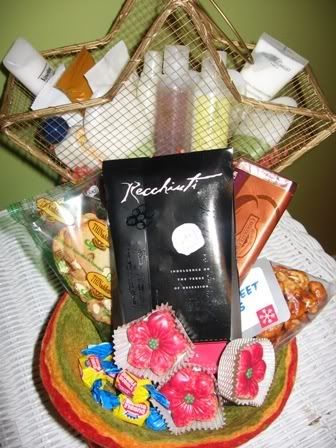 This was the guest basket Ilene left for us when we visited her and Patrick in March. I don't know if she provides the same level of service for visitors.
This was all karma because how many months did I live with my brother, my parents, Denise, Dave and Laura, Mr and Mrs Soherr, and Nancy and Eric after I got back from the Peace Corps and was looking for a job and they wouldn't take a penny of rent and there is no way I can ever pay them back even if they would take cash because let's face it, having an extra person in your house for a couple of months is no picnic?
Then there are guests -- people I want to see, with whom I want to spend time. Guests are different. With them, it's the same hassle to clean the bathroom, change the sheets and make sure there is something to eat in the fridge, but you don't care at all because they are your friends and you are thrilled to get to spend time with them.
I don't mind hotel visitors because it's still not that big a deal to make up a bed and clean a bathroom that I keep clean anyhow.
What I mind is when a visitor presents himself as a visitor but then wants the guest treatment.
A friend emailed that she found out last night after supper that relatives of her husband's, in town for a funeral, would be staying the night. They are not close relatives, as in, relatives that they enjoy and choose to spend time with otherwise. The friend assumed the relatives would be hotel visitors, not guests. They just needed a place to sleep, right?
Wrong. She wrote, they "kind of act like when they come in town, we should drop everything and sit and listen to their boring stories in every detail."
What do you do when the visitor expects guest consideration?
My friend told her husband that he was the one who had invited them and that he could take care of them, which I think was the proper response.*
I didn't know what to do when I had what I considered to be a visitor in Miami -- friend of a friend who needed a place to stay, had rented a car and was going to drive to the Everglades -- who wanted to hang out with me on Saturday instead. The weather wasn't nice enough to go to the Everglades, she told me.
Um. Yeah. But I work until 9:00 p.m. at the sweatshop that is known as Ryder corporate finance and Saturday is my day to do stuff like buy food and go to the library and I really don't want to entertain an out of town guest, not to mention I am sick and tired of taking people to the usual Miami tourist attractions, which hello! is why I gave you the map so you could go by yourself.
And then a Peace Corps friend called from the airport where she was on an all-day layover on her way to Argentina and did I want to come get her? Of course I did! And then how did I tell the friend of friend no I can't hang out with you unless you want to go to the Winn Dixie because I wasn't taking Anna to the grocery store so she just tagged along with us.
Now I am much more careful about clarifying status. "Sure, you are welcome to stay here. We'll be busy with XYZ, of course, but we have plenty of room and we'll give you a key."
* Related topic: Are wives in charge of buying presents for the husband's parents?