Remember when I wrote
this on my friend Marta's
blog? (I was explaining how to make spinach salad with hot bacon dressing.)
Wash it over and over because it gets really dirty in the garden. Then you let it dry or not, as to your taste. If you have a salad spinner, use that to dry the leaves. If you happened to wrench the salad spinner from your husband's hands last summer and throw it in the Goodwill basket because not once in the three years since you had met had you guys used said salad spinner, you will just toss the spinach in the colander. Your husband will use the untimely giveaway of the spinner as proof that nothing should ever be thrown away, including the phone bills from the house he owned with his ex wife ten years ago and the tuition receipts for his stepdaughter, who has been out of college since 1998.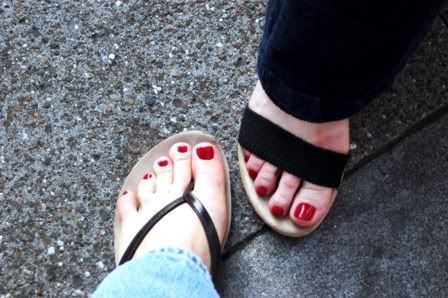 Kim's feet are on the right. She has very elegant toes. Mine are chubby and uncooperative.
I got this in the mail today from Kim my San Francisco pedicure friend who was here last weekend with her husband Luke my friend from grad school. Perhaps Kim thought there was a better way to dry lettuce than to spread it out on a towel on the counter and wait three hours. She might have saved my marriage (how much "I told you so" can a marriage take?) and has given me the right to throw things away again.