Just walking around with my camera on the way to have coffee with a new friend, go to the library and pick up my bike from the bike shop (Part B of my plan to develop hobbies with SH that are hobbies besides eating and watching movies, which is our main hobby).
This is rhubarb. I didn't see it walking around, I saw it in Sendik's. I took the photo in preparation for the post I am going to do as guest chef on
Marta's Cuban-American Kitchen
in a few weeks. No, there is nothing Cuban about rhubarb. I am going to make a typical Wisconsin meal, probably bratwurst, German potato salad, salad with lettuce from my garden (below) and rhubarb bars, and blog about it when our friends
Luke
and his new bride SFGirl visit on their way to Iowa for her family reunion. That's what the "American" part of "Cuban-American" covers. If you have not tried any of Marta's recipes or bought her cookbook, do it now. Go ahead. I'll wait. Here's
the link again
.
Notice that the rhubarb is in a waxed box. That makes the box more resistant to humidity and water but it makes it very difficult to recycle. How do you make it so paper will resist water but then will fall apart in water? Scientists are working on this as we speak and I am not joking. How to recycle waxed boxes is a huge problem in the box industry.
This was my garden two weeks ago. I am too lazy to go outside and take another picture. Things have grown.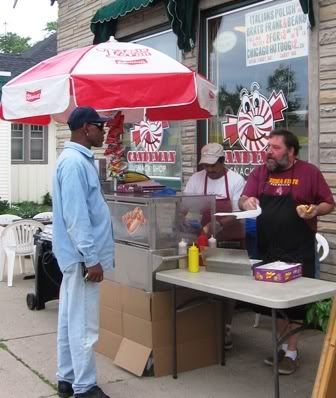 Then I got home and got my stuff and left for the walk. One of these days, I have got to get a Frito pie from this place. I love Frito pie. No, I do not know why a store called "Candyman" sells sausage and Frito pie.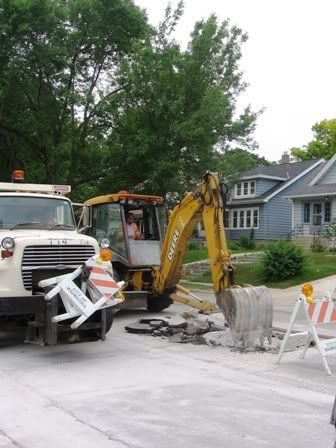 My tax dollars at work. I have no complaints about how our village is run. The streets are plowed quickly, repairs seem to be done efficiently, the schools are good, and the library is excellent. Our tax dollars are not wasted at all it seems. On the state level, however. Oy gevalt. Jim Doyle, you have some 'splain' to do.
First class tickets to Ireland?
And you don't have to fill out expense reports like everyone else? You'd last two seconds in the private sector.
I just liked the colors here.
And here.
And here. Nothing else to report except the bike appears to be working just fine.