Shirley is doing her best to break into the cupboard where we keep the cat food. We heard a door slamming over and over the other day and discovered she had succeeded in opening it. Not in keeping it open, but opening it a bit. Still, we moved the food to a safer location.
She has not figured out how to open the fridge to get to the rabbit terrine that
Doc
and
CheeseGuy
brought us back from France. But when we gave her and Laverne a 1/4 tsp each of the terrine -- we had opened it for us but guess what it looks and smells like cat food -- they each licked the bowl, then licked the floor around the bowl. They like it. It might be the only rabbit they ever eat.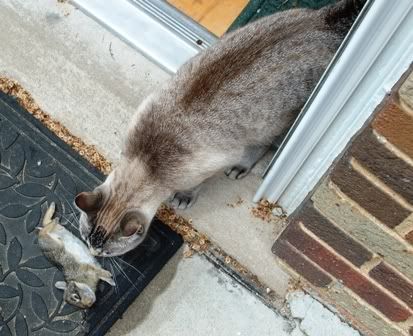 Laverne and her kill.