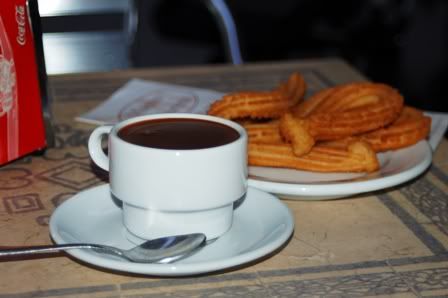 I am only now posting the Spain 2011 series because I had a backlog of material and I am lazy.
But SH and I went to Spain for Christmas.
It was not my idea.* But it was fine once we got started.
Before Thanksgiving, SH was counting his frequent flyer miles and realized that he did not have enough miles to maintain his status for 2012. If you fly a lot for your job, you know what I am talking about.
"Let's go to Spain for Christmas," he said. "It would give me enough miles. Argentina is too expensive."
"Or we could stay home," I suggested.
"But - my status!"
I thought about how hard he works and how I get to stay at home, eating bonbons and watching
Big Bang Theory
, so grudgingly said yes.*
One suggestion was that Florida would be warmer and almost as festive as Madrid and we could rent the condo of someone's housekeeper.
That suggestion met with the appropriate response.
Then we started to plan and got all excited because Spain! At Christmas!
More importantly, churros! Serrano ham! Espanish shoes that will not violate our "not made in China" policy.
SH bought a ticket for himself, got one for me with miles, and secured all our hotels with hotel points.
You know me - the only thing that makes a trip better is if it is almost free.
We left the Monday before Christmas, taking the long way to Madrid via Detroit and Paris.
We got to Detroit, where we had a two hour layover.
Walking to our new gate, we passed a Christmas fundraiser: pay $5 to sing on stage there in concourse whatever it was.
I told SH he had to sing. Had to.
He was all, "Wooooo!" because he does not like surprises.
"But I have to go to the bathroom!" he protested.
I shook my head at him. "Not mutually exclusive activities," I said. "Hurry up."
He went to the bathroom and I paid the karaoke cares people so he couldn't back out, not that I thought he would.
I even picked a song for him, but he didn't want my song.
"It's Christmas," he said. "I'm singing a Christmas carol."
He got up on stage. Started to sing. And people stopped to listen. It was lovely. He sang "O Holy Night" and hit every note. My man, Engineer by day, crooner by night.
And then we went to the lounge, where we found these.
Tomorrow: The rude lady who tried to hog the overhead luggage bin on the plane to Paris.
* First world problem